Synopsis
It is six months after Hurricane Katrina devastated the city of New Orleans. People have lost their families, homes, and work. And now, at St. Augustine Church, the axe has just fallen: the archdiocese is about to close the parish and send Father LeDoux away. Why is this happening? Haven't the city's inhabitants already lost enough? Do they risk losing their faith as well?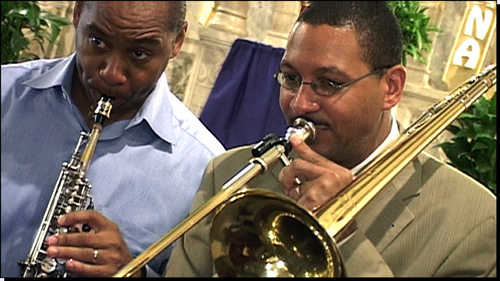 Branford and Delfeayo Marsalis
Saint Augustine Church is an important symbol. Here, for the first time, slaves, free black people and whites sat side by side, praying to God. Many say this is where jazz was born.
The parishioners join forces with local musicians to resist. Their spiritual guide, Father LeDoux, encourages them to pray and negotiate. But they soon realize they must take matters into their own hands - the time has come to go on the offensive. Shake the Devil Off is a contemporary retelling of the story of Easter, in a city where politics, culture and religion collide and where the plan of God remains impenetrable.